Press Releases are provided to Yellow Scene. In an effort to keep our community informed, we publish some press releases in whole.
OPENING RECEPTION: SATURDAY, JUNE 10  [6-8PM]
STUDIO 64: EYE CANDY BY MARK IVINS
CRAFTED: SUBVERTING THE FRAME
ANDREA ALONGE, MARY ROBINSON AND LAYL MCDILL
JUNE 10, 2023-JULY 23, 2023
OPENING RECEPTION: JUNE 10, 2023 [6-8 PM]
MUSIC: Backstreet Jazz
Craft. It is associated with handwork, utility, and rooted in tradition. Under its umbrella fall particular materials:metal, wood, clay, fiber, and glass.
In "Crafted: Subverting the Frame", Layl McDill, Mary Robinson and Andrea Alonge create using colorful contemporary concepts blended with traditional skills to subvert the framework that delineates art, craft, and design. Their work blurs the border between "high" and "low" art, while also breaking free from the confines of the rectangular "canvas". Employing a broad range of materials, conceptual practices, ways of making, and modes of display that have been historically associated with craft objects, Alonge, McDill and Robinson come together to create a colorful and tactile experience. Boundaries are nebulous, and the compositions burst from the walls with color and uninhibited joy.
STUDIO 64: Eye Candy: Mark Ivins
---
EDUCATION AT THE FIREHOUSE
SPRING SPRING AND SUMMER CLASSES AT THE FIREHOUSE!
ART CLASSES FOR ADULTS– WEEKEND AND WEDNESDAY NIGHT CLASSES
ART CLASSES FOR KIDS (SUMMER CAMP)– STILL SPOTS LEFT!
FIREHOUSE CALENDAR FOR CLASSES AND EVENTS
---
PRIDE EVENTS AT THE FIREHOUSE ART CENTER
This June we are highlighting Queer Joy and Creation!
June 3- 10 am- 2pm- PROJECT RAINBOW LOVE WITH KOKO BAYER, COLORADO ART THERAPY ASSOCIATION, ENVISION YOU, OASOS AND THE FIREHOUSE!
We will be using the time to create, make art, share stories, and experiences. We will also be creating a wheat pasted mural on the alley wall outside of Tangerines with world renowned mural artist, Koko Bayer. See more of Koko's work here- https://www.kokobayer.com/
June 3- 2pm-4pm- Pride Power Printing pArty and Kick off to Slay the Runway-
Kick off Slay the Runway and print your own Pride Power item! Choose from 5 different screens!
June 13- Fashion Illustration with Art of Modeling
June 23- Slay the Runway Runway Show and Performance
June 30- Longmont Pride- Come make shrinky dink flags with us!
---
WHAT ELSE IS UP AT THE FIREHOUSE? CLICK AND FIND OUT!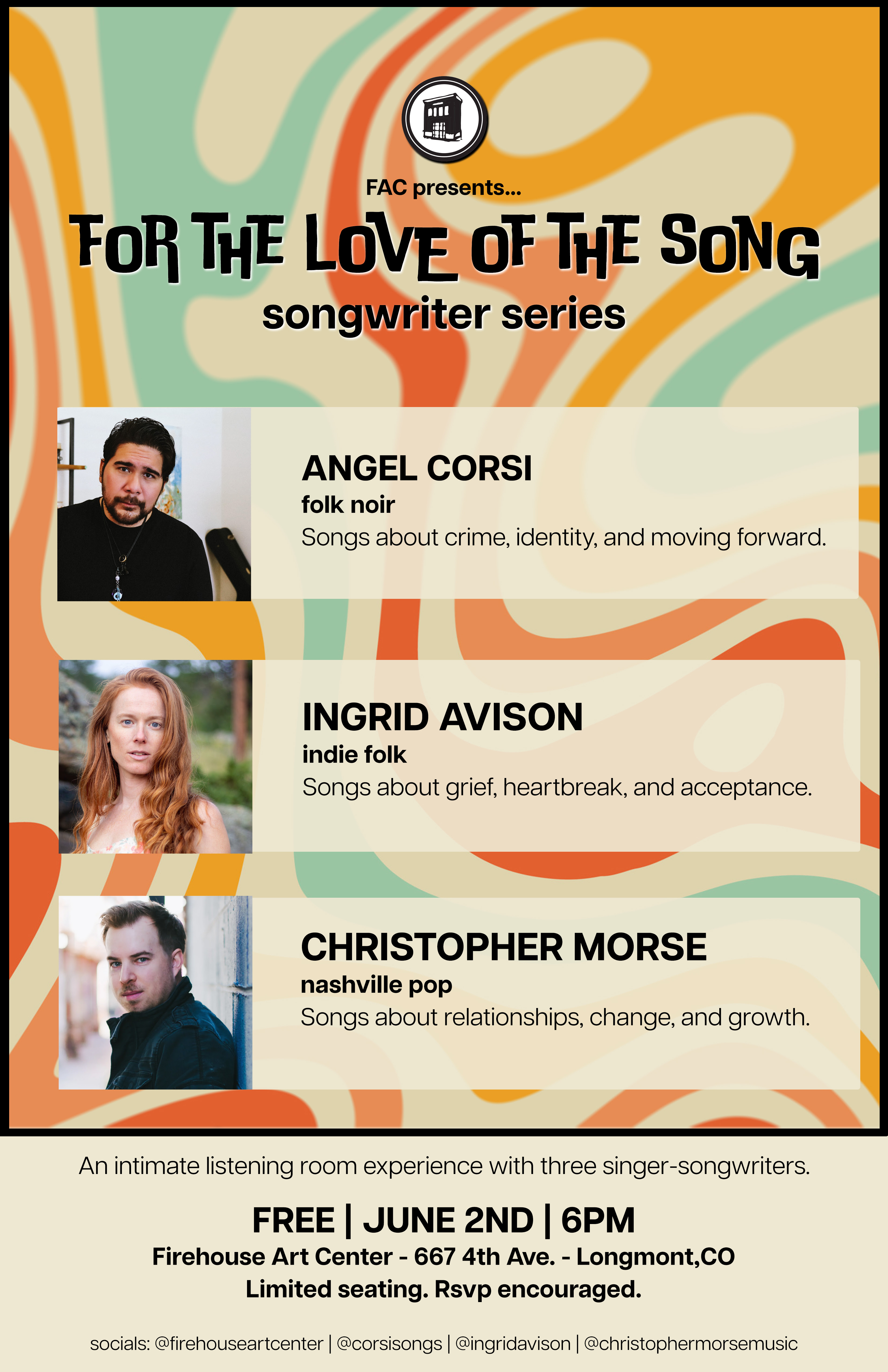 "For the love of the song" is a listening room style experience hosted at the Firehouse on Friday, June 2nd, 2023 from 6pm-8pm.
The special songwriter focused showcase features three singer songwriters sharing original songs in a song circle format.This month features Christopher Morse a Nashville Pop artist from Boulder,CO, Indie Folk artist Ingrid Avison of Nederland,CO and Folk Noir touring artist Angel Corsi by way of Longmont,CO. The trio will share their original songs on identity, growth, and grief and even coming together to support each other in their performance.
Free to the public and donations to the Firehouse Art Center as well, as the artists are highly encouraged. Email info@firehouseart.org to save a seat!
---
Summer on the Streets and ArtWalk on Main are back. We will have a Summer Street Festival every 2nd Saturday, in conjunction with the Downtown Creative Crawl. This series of Summer Festivals in Downtown provides the community with consistent 2nd Saturday events filled with art, music and culture, while creating unique opportunities for fun that make Downtown a "must go" monthly destination.